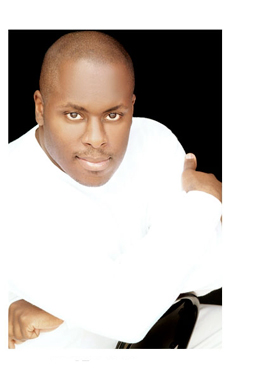 J. Bertram White began his artistic career with a love for structure, architecture and photography in his early twenties. While living in Maryland he completed his Undergraduate degree in design and advertising at Howard University in Washington, DC. Today, Bertram is an award winning abstract artist using a variety of mediums to create what he classifies as "a different look at reality."
Particularly known for his bold abstracts, J. Bertram White has won several second place and honorable mention awards in group shows and festivals. He has also had great success as an artist juried, "Speaking Life Exhibit" with Open Spaces. J. Bertram White is always enthusiastic about new commissions from private collectors who purchase, share and show his work.
"The thing I like about painting is that it captures life… that one moment, that one remarkable story. I am mesmerized by the textures, light patterns, colors and voices of the land and sky. I love both the dramatic and bold changes in life, as well as the sheer undeniable strength of the weather and seasons and from that how light manipulates the contrasting values, hues and tones of its recipient. As an artist I seek new ways to share my vision."
J. Bertram

Resume
Education and Academic Honors
Bachelor of Fine Arts, Howard University, 1998

Public, Private, Commissions, Corporate Collections
Mt Moriah Baptist Church. Washington, DC
Ronald Reagan Building. Washington, DC.
Group Exhibitions

2013 January. Annmarie Garden. Solomons, MD. "Living Gallery"
2012 May. Children's National Medical Center - Washington, DC. "In the Mix: DC area Abstract Artists"
2011 August. DC Art Center - Washington, DC. "1460 Wall Mountables"
2011 June. Children's National Medical Center - Washington, DC. "PORTFOLIO"
2011 March. Maryland National Capital Park and Planning Commission and Art, Fort Washington, MD "Black Abstraction"
2010 October.DC Commission on the Arts and Humanities and the Black Artist of DC. Washington, DC  "Omnipresence Exhibition"
2010 July.   Walter E. Washington Convention Center. Washington, DC  "Art Expo - NATIONAL URBAN LEAGUE"
2010 June. The Music Center at Strathmore. Bethesda, MD "ART & SOUL - National Center for Children and Families"
2010 March. Gaylord National Hotel & Convention Center. National Harbor, MD "National Homes"
2010 January. artCompete– Cincinnati, OH. "artCompete  2010 Abstract Art Online Exhibition"
2010 January. Annmarie Garden. Solomons, MD. "Living Gallery"
2009 December. Logsdon 1909 Gallery. Chicago, IL. "notBig"
2009 December. Climate/Gallery. Long Island CIty , NY "die Zeit of Drawing"
2009 December. Lupus Foundation of America, Inc. Greater Washington chapter- Washington, DC. Auctions and Luncheon
2009 October. Children's National Medical Center - Washington, DC. "BEYOND THE IMAGINATION"
2009 March. APW Gallery. Long Island CIty , NY "World Of Imagination"
2009 February. Upstream People Gallery. Omaha, NE "Annual Color: Bold/Subtle International Juried Art Exhibition"
2009 February. Exxon Mobil Black History Month Art Exhibit. Fairfax , VA "Year of Renewal"
2009 February. Giovanni's Art House. Atlanta, Ga. "10,000 People Project"
2009 February. Giovanni's Art Group of Capitol Hill. Washington, DC. "Celebrating Humanity"
2009 February. Giovanni's Art House. Atlanta, Ga. "The Sketchbook Project"
2009 January. Giovanni's Art Group of Capitol Hill. Washington, DC. "A MAJOR ART JAM"
2008 February. Ronald Reagan Building. Washington, DC. "A Link to Life"
2007 August. The Results Gallery of DC. Washington, DC. "The Power of Imagination"
2007 December. Visual AIDS's. New York, NY. "Postcards from the Edge"
2004 July. Sada De Lala. Bowie MD. "Group Art Show"
2002 October. Children's National Medical Center - Washington, DC. "Red Hot"
1998 May. James A. Porter. Washington, DC. Group painting show

Awards/Competitions
2009 January. Giovanni's Art Group of Capitol Hill. Washington, DC. "A MAJOR ART JAM"
2004 July. Sada De Nata – Bowie, MD. "Group Art Show" Second Place: ink on paper
Professional Affiliations
2005 - present Washington Project for the Arts
2005 - present Black Artist of Washington DC